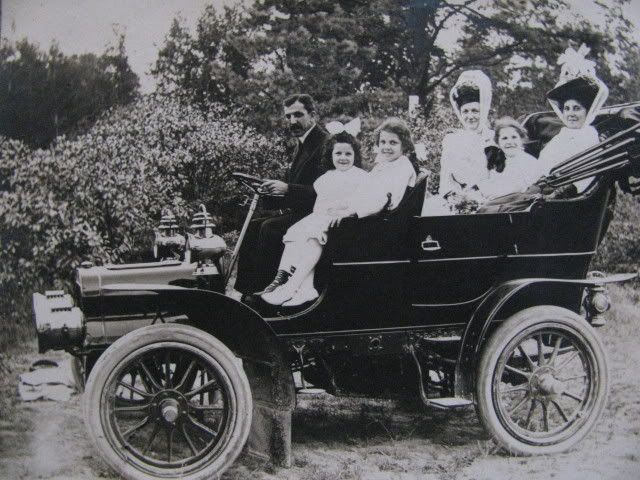 Once upon a time, there was a college student who was fascinated by family history. On weekends, she would leave her campus in Boston and take the streetcar to visit her grandmother at her nearby apartment. Along with enjoying plenty of chatting and snacking, this student would ask her grandmother to pull out the old family photo albums and then would write down all the names, places and events her grandmother told her about those pictures.
It was a great idea -- except the student didn't know until about fifteen years later that there was another album her grandmother had never told her about. An album with pictures going back to around 1910 or earlier.
Pictures like the one above. Photos glued tightly in a construction-paper album. Photos not labeled at all.
It's moments like this that make family historians tear their hair out.
By the time I happened upon this gem, my grandmother was deep in her 90s, in a retirement home and nearly blind. Her sister was dead.
Who were these people in the photos? By comparing them to family portraits that were labeled, I can hazard a couple of fair guesses -- for instance, I believe the man at the wheel was my great-grandfather Burnett Lewis (1865-1917) and the woman with the white head covering (without the big bow) was my great-grandmother Ellyn (Cranitch) Lewis (1867-1949). I could also see tantalizing family resemblances that make me suspect that others in the pictures are siblings and other relatives of my great-grandfather, but oh, how wonderful it would be to KNOW.
Perhaps my great-grandfather thought he would get around to labeling the pictures in his old age, but then he died the day after he turned 52.
I look at the photo below, which I believe shows Ellyn and Burnett with their children, Edith (my great-aunt, 1903-1995) and her older sister -- my grandmother, Marion (1899-1999). Then I look at the two pictures below that, and while I can make a possible case for my grandmother being in the back seat of both of them, I am not at all sure the girl in the front is Aunt Edith.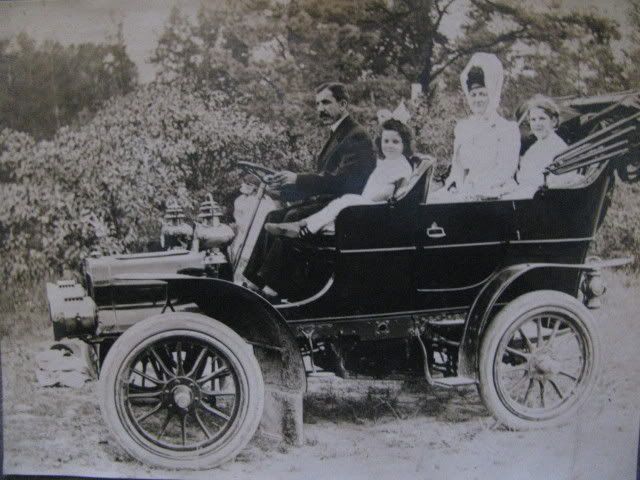 The lesson here is clear and doesn't need to be spelled out, but I'll do it anyway in the interest of posterity:
* If you have older relatives, connect with them TODAY and make sure all their pictures get labeled (full names, dates, places, events), even if you have to sit with them and do the writing yourself!
* Label your own pictures!
Let's not let our family history die with us.
Current Mood:

frustrated