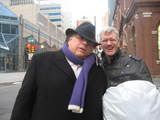 The setting was Philadelphia, population about 1.4 million.
It was a chilly but clear Saturday in the late afternoon, and two of us had just enjoyed a good photo jaunt in Center City. To wrap up the day, we were getting some quick shots of the Liberty Place skyscrapers.
I suggested we head a little more down the street and visit the inside of Liberty Place for a few minutes, to warm up and get a last picture or two.
So we walked down the street till we were just across from Liberty Place. The light was red, so we stood at the intersection. As I waited, I glanced at the man next to me and mentally admired his scarf. Then I looked up and my jaw dropped.
It was my friend Brad, who I've known for more than 20 years but hadn't seen in a year or two, and to his left was Chris, another friend of ours I hadn't seen in much longer.
What were the odds?
We ended up going out to dinner, and since then I've been thinking about this sort of chance encounter in my life.
It happened once before with Brad, maybe a decade or so ago. I had been working in Philadelphia that day and was on Broad Street, either going to or leaving City Hall. As I walked, I heard a voice calling out my name -- and there was Brad, yelling out to me from his car.
You just can't plan these things.
On another occasion years ago, I was driving down Route 202 in King of Prussia, in front of the mall, when traffic bogged down for a couple of minutes (I can't recall why), and I found myself sitting at the wheel daydreaming.
Suddenly I was aware the driver's door of the car in front of me opened, and the driver got out of the car and walked straight toward me.
Then I realized it was my best friend.
She called out to me, "Follow me home!" You may be sure that I did; who was I to mess with fate?
Do these things ever happen to you?
Current Mood:

surprised