Wits and Wiggles
snuck up behind me and memed me. She asked me to write "six random things" about myself, so I did, and I'm afraid I got on quite a roll!
Being a contrarian, I'm not tagging anyone for this one, but I do encourage you all to give it a try; I enjoyed my trip down memory lane.
Now, the six random things....
GOOFY: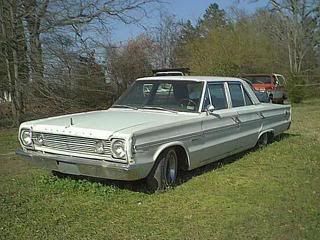 My first car was a white four-door 1966 Plymouth Belvedere. My grandparents bought it new for around $3,000 -- trading in their '57 Buick Roadmaster -- and I remember the childhood excitement of coming home after school and seeing the car parked in front of our house because a good visit was in store. After Grampa died when I was 9 and Gramma moved to an apartment on a streetcar line, my parents got the car. Then, when I graduated from college and needed wheels in the mid-1980s, my parents turned the car over to me. Because the last three letters of the license plate were "GFD," I named the car "Goofy."
It was huge and loud, and my first repair bill was about $900 because it was clogged with carbon and stalled at an intersection in midwinter near our first apartment, but I loved that car. It took me everywhere I wanted to go, and it saved my hubby's life when someone plowed into the driver's-side door while he was driving. He still teases me because when he called to tell me about the accident (about 20 years ago), before I asked about him I immediately said, "Is the car okay?" He says the only reason he lived was that car was built like a tank.
We kept Goofy into our son's early childhood -- thanks to Grampa investing in extra undercoating to postpone the car's rusting -- and the only reason we finally sold it was it was the repairs were getting too expensive. We got one last story out of that car; when we drove it to the guy who was taking it off our hands for $50, I tripped on his gravel driveway, banged my head on the car, broke my glasses, and had to get stitches on my forehead.
Hubby and I call it "Goofy's Revenge."
MY FIRST "WALDEN":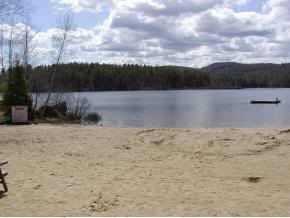 My favorite vacation spot growing up was in the Lakes Region of New Hampshire -- a cottage by Pemigewasset Lake in New Hampton, at "Pemi Shores Motel & Cottages." My grandparents told my parents about the place ca. the mid-1960s, and from then on through my childhood, we went up for a week or two every summer. Each cottage had a name, and we usually stayed in "Anna," a shaded cottage right by the lake, or "Bob," which was behind Anna. My grandparents sometimes stayed there at the same time.
This is where I first grew to love nature in general and lakes in particular; Pemi was a crystal-clear lake with a large sandy beach, and I was always swimming to "the rock" (a huge barely-submerged rock that kids could jump off) or the raft. I also did a lot of rowing to the island, a fun place to explore, and once a group of us swam to the island -- something my parents weren't too happy about because I neglected to tell them first!
As I got older, I found myself taking notes about and pictures of the lake, trying to capture it in its different moods throughout the day.
There were always kids there to swim, float on inflatable rafts, and play "Marco Polo" with, or hang out with at the beachside picnic tables for card games like "I Doubt It." A number of the kids were the same from year to year because their fathers attended an annual local conference. We would also stroll up to the restaurant for ice-cream cones.
About once each vacation week, my parents would take me into the White Mountains, to ride the Cannon Mountain Aerial Tramway and hike around at the summit. We would drive along the scenic Kancamagus Highway and stop to climb on the rocks at Rocky Gorge on Swift River. And we would always visit the Old Man of the Mountain -- sadly gone now.
We'd spend evenings out at dinner at Hart's Turkey Farm Restaurant or Tamarack Restaurant Drive-In (my favorites: their tuna roll and chocolate frappe), have a round of mini-golf at Funspot (where the holes were miniature scale models of New Hampshire landmarks like the Lake Winnipesaukee cruise ship the M/S Mount Washington, the Mt. Washington Cog Railway, and the Jackson covered bridge -- and even a hole called "Waldo the Whale"!), and make our own sundaes at Kellerhaus and sit at old-fashioned ice cream parlor tables and listen to a player piano. Perched at the top of each Kellerhaus sundae was a tiny American flag on a toothpick.
From time to time we still get back to New Hampshire. Although Pemi is now privately owned, we revisit as many as possible of my beloved old haunts, and it is wonderful to share them with a new family and a new generation!
A BABE IN THE POLITICAL WOODS: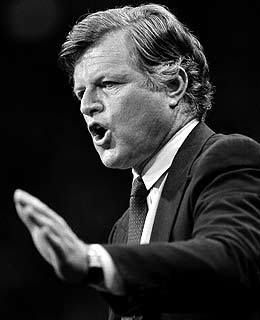 My first foray into politics was during the 1980 presidential election, when I volunteered for Ted Kennedy. I was a Massachusetts native in college in Boston at the time, and I did some typing at his Boston campaign office. The first day I was there (Jan. 28), television cameras showed up, and later people came up to me and said, "Hey, I saw you on the news at 6!" Somewhere, I have some snapshots I took that week at the office when he and his wife Joan came to a reception, where I got to shake hands with him. One of the pictures was taken of a man I ran into in the elevator -- Michael Dukakis! And Joe Kennedy came to my college and gave a humor-filled speech in a student lounge on behalf of Teddy.
I went canvassing for Kennedy in Manchester, NH, where I met RFK's daughter Courtney Kennedy and the staff sent me out with a woman who had an interesting feature -- she looked just like Jackie O! (Seriously! She wore a T-shirt with a dot-matrix design of her own face, and people asked her why she had a shirt of Mrs. Onassis...) My funniest memory of canvassing with her was this one apartment building we went to. We knocked on a door, and immediately heard some very loud, aggressively ferocious barking. Then the lady behind the door said, "Down, Benji!" My canvass partner and I looked at each other: Benji?!!!!
Last spring, Ted Kennedy came down here to PA to speak at my county's Democratic Committee dinner, and I wanted so much to go but didn't because it was my son's 16th birthday. That campaign in '80 sparked my lifelong interest in politics, and it came full circle when the senator endorsed Barack Obama and I worked on that campaign. Hard to believe it all started almost 30 years ago...
BECAUSE OF JANE FONDA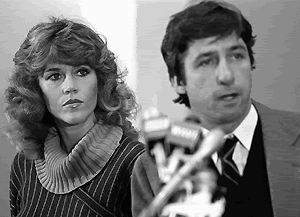 It's because of Jane Fonda that I met my husband!
In 1979, around the time Jane Fonda was starring in the movie "Nine to Five," she and her then-husband Tom Hayden came to Simmons College, where I was a freshman, and made a speech on the "Quad," the grassy area next to the dorms. I went to hear them, and I ended up sharing blanket space and conversation with a fellow student, and through her met her roommate and roommate's friend. Five years later, from those connections, I was introduced to my future hubby.
As a result, I've always perked up whenever Jane is mentioned; seems strange that I wouldn't have my better half or my son without her!
HOMES

I grew up in only one home -- in Needham, MA, the house where my parents have lived for 50 years -- and since then have lived in only four more: Boston, MA (in college, 1979-83), Woburn, MA (part of 1985; our first apartment after marriage), King of Prussia, PA (our apartment from 1986-89 when we moved for hubby's job), and Royersford, PA -- our house since 1989. It'll be 20 years here in March!
BY ANY OTHER NAME...
When I was pregnant, I wouldn't let my doctor tell me if I was going to have a boy or a girl; I wanted the big moment to be a surprise. As a result, hubby and I planned boy and girl names. If our child had been a girl, she would have been named "Sara Beth."
For a boy's name, we followed the very scientific method of each poring through the baby-name book and separately writing down our top three choices, then comparing notes and reaching a final decision.
We did this -- but after all that, we ended up naming our son after my father!
What six random things can we learn about YOU?
Meme time!
Current Mood:

nostalgic