Not this year.
It was precisely one week before Christmas this year when I stopped at lunchtime at the King of Prussia Mall in Montgomery County, PA, which according to Newsweek is the largest mall on the East Coast. Having worked in retail at this mall for four years a while back, I was a veteran of the holiday parking wars, and figured I might have to park in the 'overflow' business lot across the street.
But here is what I found:
And glancing to the right, I saw this: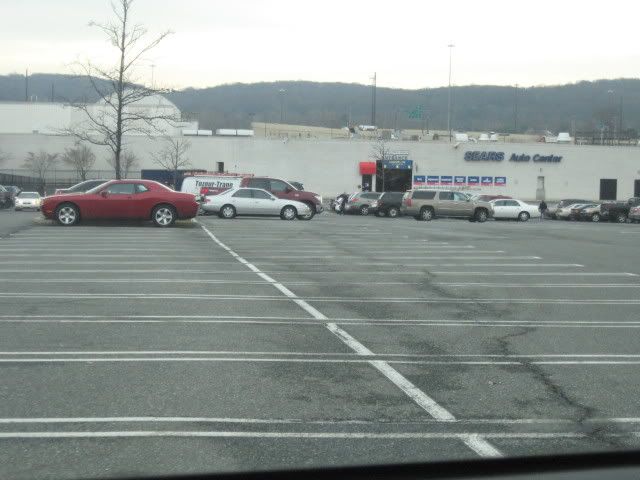 Trust me when I say that in my experience (and I've lived in this county for 22 years), this is not normal. Yes, there were shoppers at the mall, but nothing like the holiday rush I've come to expect here. This was more like a hot day in July, when some people are cooling off at the mall, but most have gone "down the shore."
My one errand was at the camera store, which I would have imagined being a flurry of activity that day. But no, I only had to wait behind one customer to pick up my Christmas-card photos.
The evidence piled up. That night, I went to a Staples across the river in Chester County to pick up festive paper for our Christmas letter. And despite this being in a strip mall after work and dinner hours, a mere seven days before Dec. 25th, the parking lot was almost empty.
And this afternoon, I popped into the post office to mail some more cards -- and saw that no one was in line!
Sure, some people are undoubtedly staying home and clicking their way through their shopping list at Amazon.com, but I think we all know there's more than that going on here.
My hubby, mother and I have all come to the same conclusion: People are too scared to spend the money, or people just plain don't HAVE the money.
What are you seeing at the stores near you?
Years ago I came up with a term, "guerrilla parking," to describe the only way Christmas shoppers at the mall were able to get a space for their car. You know how it works -- from around Thanksgiving on, arriving drivers stalk departing shoppers who are walking to their vehicle -- and woe betide any driver who tries to sneak in to snag that one remaining precious spot!
Current Mood:

worried