Yes, I love New York, and come midnight, I'll be counting down the seconds till 2008 while watching the same 1,000-pound-plus Waterford Crystal ball Manhattan drops every year.
But let's face it, it's a little boring. The Big Apple should consider pepping up its First Night. How about dropping a Phantom of the Opera mask? Or a mini Staten Island Ferry? Or Rudy Giuliani? (Whoops, did I say that aloud?)
Elsewhere in America, the creative spirit abounds. Take Elmore, Ohio, which features a New Year's Eve Sausage Drop, which they call "the Wurst event of the year!" I do have to say, though, that their publicity sounds just a bit raunchy: "We are dropping our Sausage at Midnight!"
Then there's Key West, Florida, where they drop a drag queen in a red high-heeled shoe! Or Atlanta, which drops an 800-pound peach. (Can they serve that with a two-ton bowl of cornflakes?) Or Prairie du Chien, Wisconsin, which advertises the "Droppin' of the Carp," along with singing by "Larry and the Carpettes." Or New Orleans, home of the "Gumbo Pot Drop." Brasstown, North Carolina, is "Opossum Capital of the World," where they drop a possum -- "gently lowered in a plexiglass pyramid," I hasten to assure the folks from PETA. Actually, the Tar Heel State weighs in with a variety of First Night innovations -- Raleigh drops a 900-pound brass acorn (don't stand beneath that one!), and in Mt. Olive "a three-foot, lighted pickle goes for a swim in the briny deep."
Of course, there's always my current home state of Pennsylvania. One Internet observer notes, "Hands down, Pennsylvanians like to drop stuff the most." For instance: On New Year's Eve, Lebanon drops a 12-foot-long, 150-lb. edible bologna stick. Dillsburg joins the North Carolina pickle fans, with its own Pickle Drop accompanied by pickle soup, deep-fried pickles (on my "possible" list) and chocolate-covered pickles (no freaking way!). Hershey features a giant chocolate kiss (sorry, not a real one), Duncannon drops a sled, Carlisle a mini Indy car, Mechanicsburg has a 10 1/2-foot lighted wrench, Bethlehem drops a huge Peep (I know, I know, they should wait for Easter), and I'm pretty sure I don't want to know the details of Blair's plan: "A cow will be dropped at midnight at the McKeehan residence."
Special originality points go to Strasburg, PA, home of the New Year's Eve "Ping Pong Ball Avalanche" -- 275 of them! Dare I say they have a lot of...oh, never mind.
I enjoyed reading about these celebrations and more (if I were going out tonight, I'd want to check out the Peep), and if you have run across any particularly colorful New Year's Eve "drops" to share, please do!
In the meantime, have a wonderful, safe New Year's Eve, don't drink and drive, and whether your celebration involves a peach, a sausage, an acorn or whatever -- be sure to have a ball!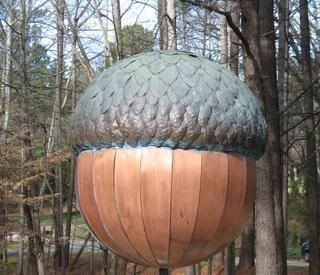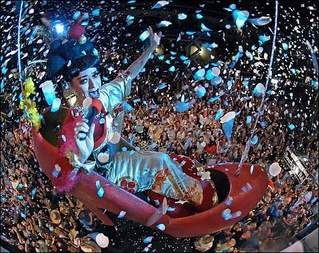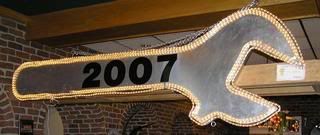 Current Mood:

amused