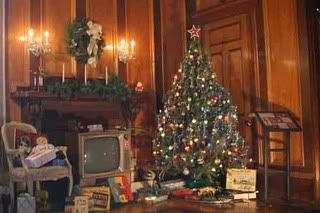 "Christmas--that magic blanket that wraps itself about us, that something so intangible that it is like a fragrance. It may weave a spell of nostalgia. Christmas may be a day of feasting, or of prayer, but always it will be a day of remembrance--a day in which we think of everything we have ever loved."
--Augusta E. Rundel
Who are your "ghosts of Christmas past"?
Mine are stored on a 26-year-old Radio Shack cassette tape, which I labeled "Ghosts of Christmas Past (1981)." That Christmas, I was on vacation from college, spending the day in Massachusetts at my parents' house with my mother, father, grandmother and great-aunt. I spent every Christmas with them, but that year I was especially aware that we would not always be together, so I slipped a tape recorder under the living-room sofa to capture the flavor of our family's holiday.
Today, I listened to the tape for the first time in years.
The conversations I heard were so utterly ordinary -- Aunt Edith talking about chapped lips, my mother asking what Christmas tapes the family wanted to hear ("Robert Shaw Chorale, Mormon Tabernacle Choir, Mitch Miller, Philadelphia Orchestra, Bing Crosby, or Robert Shaw Chorale?"). Gramma asked, "Do you have a list of what they sing?" Aunt Edith deferred to my mother: "You play what you like!" The topic moved on to me asking what 'cloisonne' was and how was it spelled? They all leaped in; Aunt Edith pronounced it, Gramma started to spell it, Aunt Edith finished, and my mother grabbed a dictionary and read me the definition. Shortly after that, my father came in and joined the group. At one point, I heard what was probably wrapping paper being torn away.
Meanwhile, the carols spilled out into the room: "O Come, All Ye Faithful," "The First Noel," "O Little Town of Bethlehem," "O Come, O Come, Emmanuel," "Away In a Manger."
So ordinary -- yet so miraculous that these moments survive. I doubt that anyone else has a recording of Gramma's voice -- low, shrewd, wry -- or Aunt Edith's, light, precise, sociable, and with a more distinct Boston accent than I remembered ("I cahn't tell..."). And everyone's laughter was wonderful to hear once more.
I thought about how the day always started with going to pick up Gramma and Aunt Edith in Boston, and loading into the car their shopping bags full of presents. One Christmas that lives on in memory is the bitterly cold day that my father's car got a flat tire on Route 9, and we rolled into a fire station where he changed the tire while the rest of us kept warm inside the station. To this day when I am visiting the area, I drive past "our" fire station and smile.
Christmas at our house had the following ingredients: Music (carols all day on the stereo), presents (often books and music, opened one at a time, with everyone watching), women chatting (about photography, knitting, travel, etc.), and tasty treats of salted cashews and candy -- "peach blossoms" (peanut butter in a crunchy shell) and "chicken bones" (hard candies with a chocolate center), as well as gift boxes of chocolates and Brigham's fudge to pass around. There was even the time (times?) when we gathered in the evening around my father's TRS-80 computer and tried to get Gramma to play Shooting Gallery ("Oh no, I don't want to shoot those cute little ducks!").
All these years later, I am grateful for my little cassette of memories, despite the scratchy sound quality. Aunt Edith died in 1995, then Gramma in 1999. My parents are still in their house, but may be moving to a smaller place before next Christmas. I am now in Pennsylvania, married with a 15-year-old son. So many changes.
But I can -- and do -- still play Bing Crosby and the Mormon Tabernacle Choir at Christmas, and put out salted cashews and Gramma's silver candy dish, filled with chocolate kisses.
Current Mood:

nostalgic