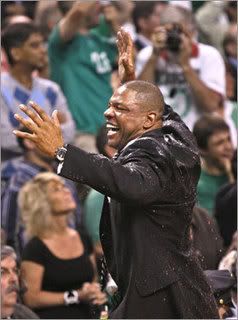 Glory days are here again!
Hubby and I, Massachusetts born and bred, reveled in every minute of the Boston Celtics' victory last night against the L.A. Lakers, which gives the Celtics their 17th NBA Championship -- their first since 1986!
The hometown fans got to see the Celtics win at the Garden, 131-92. This year's much-heralded "Big Three" -- Paul Pierce, Ray Allen and Kevin Garnett -- rocked.
When there was no doubt left about the outcome, the Garden erupted with joy, Paul Pierce doused head coach Doc Rivers with Gatorade, and confetti flew.
And hubby went up to bed, a sleepy but happy man.
Current Mood:

excited