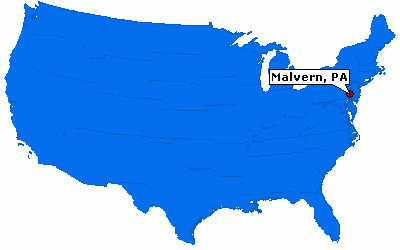 The minute I saw the email, I was out the door. But it wasn't soon enough.
The news: Barack Obama is coming to Malvern for a town hall meeting at Great Valley High School! The email, which I read yesterday at about 1 p.m., said I could pick up tickets at 234 Bridge Street in Phoenixville. I jumped into my car and went right over.
Turned out the tickets were already gone! The nice young woman who had set up a table outside Bridge Street Fine Arts was very sweet and apologetic. She whipped out her digital camera and showed me pictures of the people who were camped out on the sidewalk when she arrived that morning. The ticket giveaway started at 10, and by 11:30 the last ticket (and we're talking more than 1,000 tickets!) had been handed out. I signed onto the waiting list and took an Obama sticker for my jacket.
I wandered into and out of a few shops, and noticed that people continued to stop by the Obama table, hoping for tickets. The owner of one shop mentioned she had tickets for herself and a friend, and had just given her last ticket to a customer -- sigh!
So a large crowd of local folks, including some very lucky students at GVHS (motto: "Patriot Pride: Be a Part of It!"), will get to hear Sen. Obama in Malvern at around lunchtime today. Not I, though.
I never thought I'd say this, but the man is too darn popular! :-)
***************************************
On my way home, I stopped at Staples for printer cartridges. As I left the store, I saw an older woman standing in the parking lot, staring at the bumper of my car. (This car, as you might imagine, has a collection of very liberal bumper stickers.)
I called out a greeting to her, and she turned around and said, "I wondered if you've decided who you're voting for!"
Just as I told her, she caught sight of the Obama sticker on my jacket. I asked her if she had decided, and she said she was still thinking about it.
There are excellent candidates this year, she said, a better choice than we've had in years. I agreed, I wished her a good day, and left her with these parting words:
"Anyone but McCain!"
(P.S.: Before dinnertime, my old, curling-at-the-edges Kerry-Edwards sticker had been removed and replaced by a beautiful new Obama '08 sticker. Bring on the primary!)
Current Mood:

optimistic