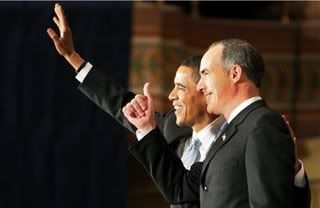 It isn't often that I'm pleasantly surprised by politics, but I am today. Pennsylvania Senator Robert P. "Bob" Casey, Jr., has endorsed Barack Obama for President.
It's a gutsy move I wouldn't have expected from a politician who seemed so cautious and low-key; in fact, Casey had planned to stay neutral in the Pennsylvania primary, and he could easily have done so.
Instead, he bucked Gov. Ed Rendell and the mayors of Philadelphia and Pittsburgh and came out strongly for Obama. Philly.com quoted, " 'I believe in this guy like I've never believed in a candidate in my life,' Casey said, pausing, 'except my father.' "
The endorsement is considered potentially helpful in getting Obama the support of the Keystone State's white working-class voters, especially men.
Oh, and by the way, Casey's a superdelegate.
Way to go, Bob!
Current Mood:

excited