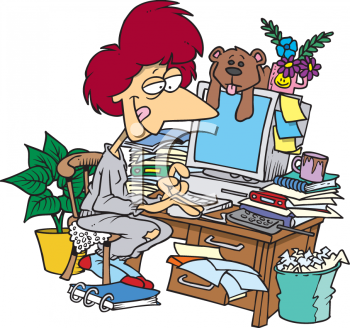 I'm drowning in ancestors!
More than 20 years ago, I started researching my ancestry. It started out slowly -- a few letters back and forth with my grandmother, a few family pictures. Not a problem.
Then I discovered research repositories. I started photocopying pages from published family histories and printing out pages from the U.S. Census. I three-hole punched the family-history pages and put them in binders, and slipped the census pages into large envelopes. Still not a problem.
Over the years, more and more papers began piling up: birth, marriage and death certificates, naturalizations, ship lists, newspaper wedding stories and obituaries, letters to and from Internet cousins, and more. My organizational system began to slip away, bit by bit.
Finally, the deluge hit. My grandmother and great-aunt died, my parents began to think about downsizing, and I ended up with family photos and documents galore because I didn't want them getting thrown out. I couldn't find things I needed when I needed them. I realized how large and disorganized my collection had gotten.
So now I'm on a mission. I'm creating new three-ring binders for each line, subdivided by document category (vital records, newspaper stories, city-directory pages, naturalizations, correspondence, and so on). I'm part way to getting each subdivision into chronological order -- invaluable for creating timelines and seeing what documentation I still need on a person. For family lines I have less information on, I have 10 x 13 envelopes. I am labeling my photographs (mine and the inherited ones), and putting them all in one place so I can scan them as needed. And the whole kit-and-caboodle is in one specific location in my house -- or at least, we're getting there.
That's one reason I haven't blogged much this week; I'm on a roll.
Can anyone relate to this scenario?
What is your system for saving, organizing and identifying family memorabilia?
Current Mood:

sleepy