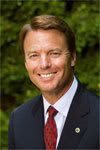 From today's speech by John Edwards in New Orleans:
"With all of the injustice that we've seen, I can say this, America's hour of transformation is upon us. It may be hard to believe when we have bullets flying in Baghdad and it may be hard to believe when it costs $58 to fill your car up with gas. It may be hard to believe when your school doesn't have the right books for your kids. It's hard to speak out for change when you feel like your voice is not being heard.
But I do hear it. We hear it. This Democratic Party hears you. We hear you, once again. And we will lift you up with our dream of what's possible.
One America, one America that works for everybody.
One America where struggling towns and factories come back to life because we finally transformed our economy by ending our dependence on oil.
One America where the men who work the late shift and the women who get up at dawn to drive a two-hour commute and the young person who closes the store to save for college. They will be honored for that work.
One America where no child will go to bed hungry because we will finally end the moral shame of 37 million people living in poverty.
One America where every single man, woman and child in this country has health care.
One America with one public school system that works for all of our children.
One America that finally brings this war in Iraq to an end. And brings our service members home with the hero's welcome that they have earned and that they deserve."
Current Mood:

sad