(I'm waiting for the raucous laughter to die down...)
No, really, it is my birthday. And in this recession -- or as the media coyly calls it, "economic downturn" -- I couldn't hit the town for a sumptuous steak dinner or an orchestra seat at a show. (I did, however, splurge this morning on quite a tasty Egg McMuffin on the way home from dropping off Fudgeteen and Ray at school.)
The point is, I was wonderfully surprised this week at all the unexpected birthday fun I received! It brightened my outlook enormously -- I might even call it a stimulus! :-)
It all began Sunday night, when I went to visit friends I've known for more than a decade; we were throwing a farewell party for one of our number, who is moving down South this week. We caught up on her doings, chatted, and munched on takeout Chinese food -- and then I was startled when they paraded out with a candlelit cake for me!
They also had me pegged politically -- as will anyone who read this blog for more than two minutes last year! Here is the card they gave me. (The greeting on the inside was "Wishing you an 'O' so happy birthday!") P.S.: Gotta say that Barack carries off those earrings quite well... ;-)
Here is "the gang." (Don't ask about Batman -- that's a whole 'nother story!)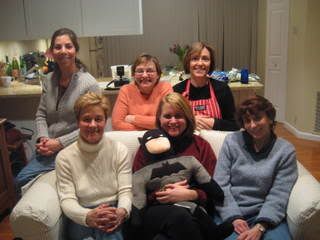 Flash forward to today: I had been really good (for once!) about keeping all my birthday cards unopened until the big day. But I was curious about why my friend Patricia had sent me TWO cards! Finally, I opened the first one, and found that, again, my political reputation had preceded me. :-)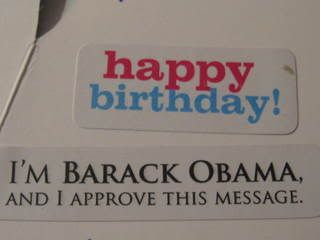 Hmm -- I wonder how many cards of himself the Prez gets on his birthday! Anyway, inside was tucked a page of quotation stickers from the future POTUS:
The other card, I figured, would be another pose of Obama -- but no, it was another one of my favorite people. Think "Walden"...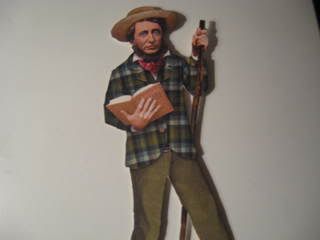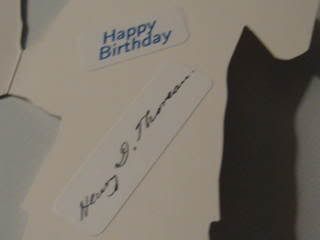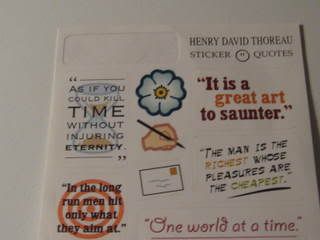 [The cards and stickers she got are from the
Unemployed Philosophers Guild
.]
Patricia also sent a package that I waited till mid-afternoon to open (i.e., drove myself crazy). And there inside, in a fitting tribute to my lifelong chocoholism, was the Christmas ornament called the "Angel of Chocolate." Her motto: "Because chocolate is heaven on earth." Amen! (By the way, I have to note that this angel looks about a size one. Has she ever actually EATEN any chocolate?!!)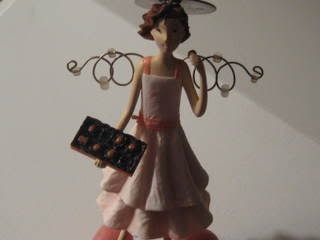 Hubby also gave me one of his special hand-drawn cards that he does for every occasion; it is always based on a recent happening in the family, and this one, of course, included "baby Ray." I just love these! He also made us chocolate-chip pancakes for dinner (yum!), and the evening ended with chocolate cake.
Thanks to all my birthday "angels," who made my special day rich indeed!
Today is my birthday. I'm 20.
Current Mood:

content