Mill Grove is for the birds. In a good way.
Today I visited Mill Grove, the home of naturalist, artist and writer John James Audubon (1785-1851; see portrait above), whose fame was sealed by his masterwork, "The Birds of America." A French zoologist in the 1820s called Audubon's collection of 453 paintings of birds "the greatest monument yet erected by art to nature." The
John James Audubon Center at Mill Grove
, located in the village of Audubon, PA, includes the stone farmhouse's three-floor museum celebrating his life and work, as well as a bird sanctuary.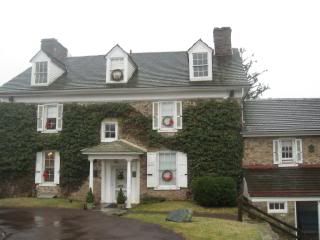 Visitors to the museum will see original Audubon paintings like those shown above, but will also see his portraits of a swift fox and arctic foxes. Audubon spent his last years working on "The Quadrupeds of North America," but his health and eyesight were failing, and he died in 1851 before the work could be completed. His sons stepped in to help finish their father's last project.
Strolling around, you will see a stuffed owl, turkey vulture, wild turkey, ring-necked pheasant, great black-backed gull, and bald eagle. Family-history buffs will enjoy vintage Audubon family photos and a picture of John James Audubon's original home, "La Gerbetiere," in Coueron, France.
Think you are a pack rat? Check out the re-creation of John's bedroom. One visitor in Audubon's youth described what he had seen: "On entering his room, I was astonished and delighted to find that it was turned into a museum. The walls were festooned with all sorts of birds' eggs, carefully blown out and strung on a thread. The chimney-piece was covered with stuffed squirrels, raccoons and opossums...."
There is something here for all ages. The museum has a "Room For Young Audubons," with tables and chairs where young nature lovers can try their hand at drawing an owl or other bird. Signs encourage students to develop their powers of observation by seeing the color of the bird's eyes, beak, feet and claws, the colors and patterns on the feathers, and how the bird holds its head. It is suggested, too, that students check the cage outside with "Blaze" the red-tailed hawk, and the two great horned owls named Sitting Bull and Geronimo. One of those nature tidbits tailor-made to fascinate kids is that "our birds of prey eat rats that have been frozen just for them." Little did you know that owls, too, have TV dinners!
There are some quirky exhibits at Mill Grove -- Indian artifacts including a flint scraper, quartz spear, etc., found on the land; a mineral collection (lead and copper mines were once on the property), and even old photographic equipment (presumably for passionate naturalists), including a Brownie Fiesta Camera and a Hawkeye, Sylvania "Sun Gun" movie light, a Pocket Instamatic, and a brochure on "How to make good pictures with your Polaroid Speedliner Land Camera."
Shutterbugs will also love an exhibit that is being featured at the museum until Jan. 31st -- "A True Focus On Nature: Wildlife Photography by James Campion," a local photographer who travels widely to get his shots, and practices incredible patience in waiting till just the right moment to press the shutter. This room of photos was my impetus to go to Mill Grove today, and Campion did not disappoint. The first picture I saw, "Intense," was an incredibly detailed and textured close-up view of a reddish egret. His subjects were varied -- white ibis, humpback whale, barred owl, flamingo, black skimmer, white tail fawn, red fox pups, and Eastern gray squirrels in a tree. He captures them wonderfully in all their delicate beauty, power and charm.
Arriving shortly after New Year's, I found the house decked out attractively for Christmas -- and my favorite holiday side-attraction was a collection throughout the house of "teasel pod creatures," made by volunteers from the prickly teasel plant. These endearing little critters are crafted in all kinds of poses -- drumming, fencing, singing, playing basketball, taking pictures, skiing and sledding (this last with a sign asking, "Where's the Hot Chocolate?").
(And yes, there's a gift shop. Some of the teasel creatures were on sale there, with proceeds benefiting the museum.)
Those wanting to explore Audubon's legacy outdoors as well as in will have a treat, as the property contains 175 acres of woodlands and meadows, as well as miles of walking trails. My outside explorations today were brief, since it was spitting rain and there were still icy patches from the overnight storm, but the glimpses I saw whetted my appetite for future excursions.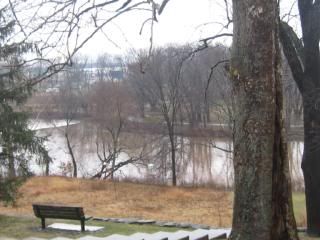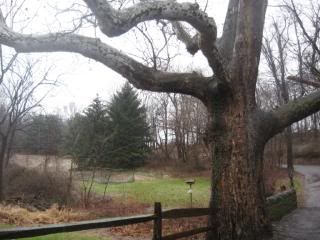 As I headed out the door of Mill Grove, several birds flew off from a nearby tree; their presence is a fitting tribute to the man who did so much to study and honor them. The museum's motto is "Connecting People With Nature and Art," and it certainly succeeds.
Visit Mill Grove yourself sometime, and let your own dreams take wing.
Current Mood:

curious