Slowly in silent syllables recorded;
This is the secret of despair,
Long in its cloudy bosom hoarded,
Now whispered and revealed
To wood and field."
-- From "Snowflakes," by Henry Wadsworth Longfellow.
As I walked yesterday in the woods, and as I reflected on the walk and reviewed my pictures, I thought about the cycle of the seasons, the cycle of the emotions, the cycle of life. We are now in the depths of winter, when Nature is naked and exposed. The world is a tangle of coiled slim branches and dead leaves. The season has resonated with my sense of profound depression -- emotional nakedness and fragility. If I step on the thin ice, it might break. If I feel, I might cry and not stop.
What can I learn from Nature in this season? From my walks, I feel a sense of pride in the great quietness, a pride in simply, stubbornly, surviving. Tree roots reach out deep into the soil and grip a firm foothold to withstand the brutal winds; I am fascinated by them. The season of enormous desolation can also be seen as a time of inward-looking solitude, of not caring about hiding anything from anyone. A time not only of fragility but of beauty, when there is not only numbness -- the chill in the heart -- but also the intense pain that comes from loving deeply. While the pain is almost unbearable at times, it means I am, for one more season, alive.
I look long at the water in the creek and see reflections that are fragile but lovely. I look at myself and try to see the same. The snow and ice cover some of the creek, but the blue water peeks out as well. Walk the trail long enough, and I will hear the soft rush and gurgling of the living stream, even in January.
The quality of the light is wondrous on winter days -- casting vivid shadows in the morning, the pure pale warmth resting on the landscape in mid-afternoon, the setting sun burning through the trees and scorching a trail of light on the water as evening draws near.
Winter lends a wonderful geometry to places that might be dismissed as ugly or simply inconsequential. I find myself riveted by shorelines that are the intersection of snow-flecked mud and stones, or dead leaves, and the jagged icy margin of the creek. I stare at the intricate ridges in tree trunks, whether they stand sentry by the stream, or rest on their sides by the trail, the ridges lined and accented with snow. Beyond the ice, I can peer into the water's clarity at the larger stones at the bottom.
The rebirth of spring and the lush greenery of summer seem impossibly far away. Between now and then, I have a lot more walking and thinking to do.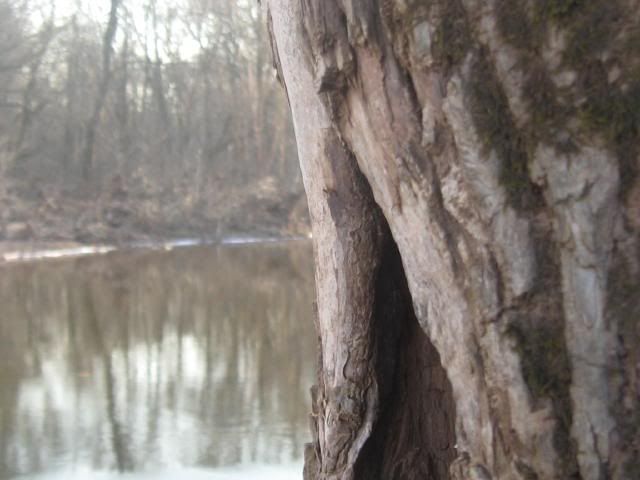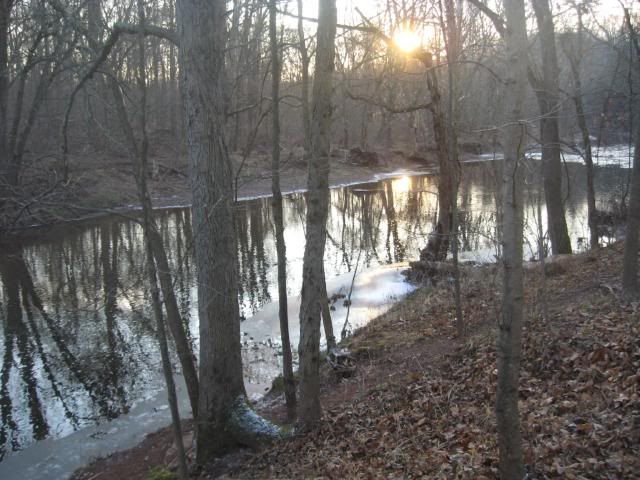 "This is the poem of the air,
Current Mood:

contemplative